The Reckless Kind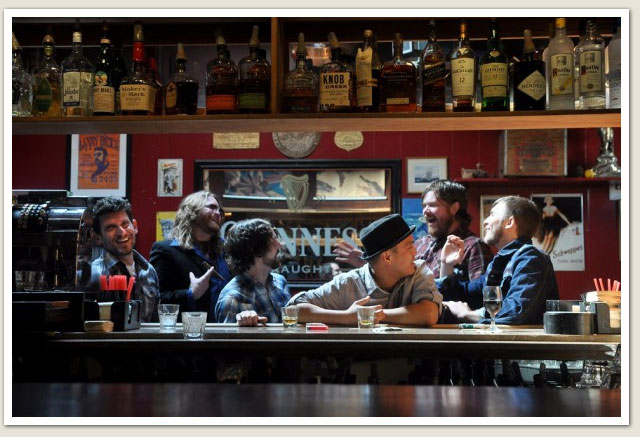 What if I were to tell you that members of classic Bay area punk bands, AFI and American Steel had joined forces with a bunch of young whippersnappers and formed a band called The Reckless Kind, and that they play some of the dick-swingingest rock and roll this side of 1984 – with tunes that recall the best of Tom Petty, Thin Lizzy and even a little Steely Dan thrown in to keep it classy? I hear your skepticism, but man, it's true! A far cry from the punk anthems of Oakland basements and Warped Tour fairgrounds that their more well-known members are known for, The Reckless Kind have the sort of effortless cocky swagger that will, if you play their songs loud enough, take you back in time to the age of denim-clad asskickery, and rock you so hard that you pass out in a pool of sweat and wake up pregnant with yourself. It's bombastic rock at its best and it's gonna be available on August 24, 2012 in the form of their upcoming debut full length, Golden Age Thinking, courtesy of upstart San Fran label Lugosi Records. So dust off your Zippos and hide your daughters, because The Reckless Kind is coming to rock you.

Here's how it went down: Bay Area natives and long time collaborators Ben Coil and Brian Miu, starting with little more than a vague idea of what they wanted to do after the dissolution of their band Rattlesnakes, started cranking out songs that were so magnetic that they attracted a golden voiced, walking embodiment of rock and roll named Phillip all the way from the hinterlands of Arizona to Northern California where, left to his own devices, he decided to wear his sunglasses at night, drink Modelo beer and lend his amazing pipes to the proceedings. Virtuoso multi-instrumentalist Sean Reilly soon joined in on guitar and keys and was closely followed by Adam Carson from AFI on the drums.

When it came time to record Golden Age Thinking, The Reckless Kind enlisted Sharkbite Studios' owner and resident knob twiddler Ryan Massey, of American Steel/Communique fame to do the honors. Ryan, so turned on by the tunes that the Reckless Kind boys were cranking out in his studio, not only offered to put Golden Age Thinking out on his own Lugosi Records, but also muscled his way into the lineup as the sixth man, playing keys, guitars and singing backups. It's not every day that a band goes in to make an album and comes out with a new member, unfettered access to a studio and a record label, folks. But in this case, that's what all the fuss is about.

So, come see The Reckless Kind celebrate the launch of Lugosi Records and the release of Golden Age Thinking at the Bottom of the Hill in SF on August 24th with American Steel. Or if you can't make it, catch them when their limited touring schedule brings them closer to your home. Massey, who is the default band dad, due to his being the keyboardist, guitarist, engineer, producer and label honcho all at the same time, has said that besides west coast weekend dates, The Reckless Kind is planning on doing at least one full US tour this year. So don't miss your chance this time, because by the next time they tour, if The Reckless Kind's magnetic contagion continues like it's been going, they'll probably have like a hundred guys in the band. Consider yourselves warned.

Band Members
Philip Mills - Vocals
Ben Coil - Guitar, Vocals
Brian Miu - Bass, Vocals
Sean Reilly - Guitar, Keys, Vocals
Adam Carson - Drums, Vocals
Ryan Massey - Keys, Vocals, Guitar
More Info


Releases

Golden Age Thinking
Release Date:
August 10, 2012