American Steel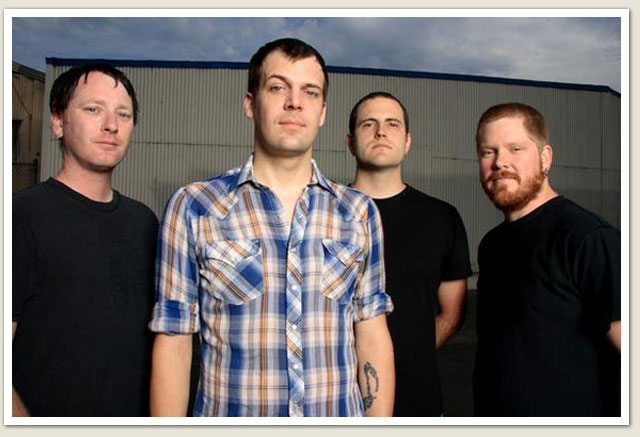 Fans of AMERICAN STEEL rejoiced with the reformation in 2005 which produced their first album in five years titled Destroy Their Future. After their triumphant return, American Steel are primed to build on their remarkable momentum and acclaim with the release of their fifth full-length, Dear Friends and Gentle Hearts; recorded at Sharkbite Studios in Oakland, CA. From the opening note, Dear Friends and Gentle Hearts reflects American Steel's unique ability to deliver invigorating songs with an artistic approach that is lost on the majority of their peers. The album's penetrating songs, soulful choruses, and smart, constantly progressing guitar work combine to create what is by far the band's paramount achievement to date. Guided by honest lyrics that melt into irresistible hooks which refuse to leave the listener's head, Dear Friends and Gentle Hearts stands alone in a sea of whimsical, one-and-done offerings from countless other bands in the punk scene. It is truly one of those rare recordings that insights the longing for the cramped and carefree confines of a sweaty, jubilant house party. American Steel fans and music fans in general will be enraptured by this instant classic.
In its earliest incarnation, American Steel was a band that sought to absorb influences at the far ends of the musical spectrum — Crass, Fang, The Clash, East Bay pop punk, Irish folk songs, motown, soul — and outstrip them all in both melody and intensity. Starting in 1995 as a loosely organized trio who traded turns at the mic (and occasionally instruments), the group soon recruited a permanent drummer and invested in amps, tuners, and eventually a van, and embarked on a five-year run of touring that would see them criss-crossing the North American continent dozens of times, starting in basements and backyards and eventually crossing into the club circuit.

American Steel's recorded output is as different from song to song as it is from album to album. The first three American Steel records (1998's Untitled , 1999's Rogue's March, and 2001's Jagged Thoughts, all of which were recorded by Kevin Army), each take an innovative, complex, and sometimes schizophrenic approach to songwriting. The songs on Destroy Their Future range from the simple and stripped down to the bombastic and over-the-top.American Steel set Dear Friends and Gentle Hearts apart from their past recordings by melding Rory's introspective often personal lyrics, with soulful aggressive energy that extends the range and scope of what can be classified as punk. In May of 2002, in a move that surprised many of their fans and friends, American Steel decided to simply disband, playing their final show at 924 Gilman Street in Berkeley. With timing that could almost be called appropriate, American Steel,— a band that was built on (and celebrated) contradictions — ended their run just as they were starting to bend a few ears.

No one has been more surprised by the recent return of American Steel than the band members themselves. Rock music may have seen the birth and death of several sub-genres in the years since American Steel's first run, but beneath the surface, very little has changed. The rise of digital music has made it easier than ever to find bands to like, and harder than ever to find bands to love. Whatever the case, American Steel is back, and Dear Friends and Gentle Hearts is their powerful and focused entry into the fray.
Band Members
Scott Healy - Drums
Rory Henderson - Vocals/Guitar
John Peck - Bass/Vocals
Ryan Massey - Vocals/Guitar
Jamie Kissinger - Drums (Jagged Thoughts)
More Info




Releases

Jagged Thoughts
Release Date:
June 19, 2001

Rogue's March
Release Date:
August 10, 2012